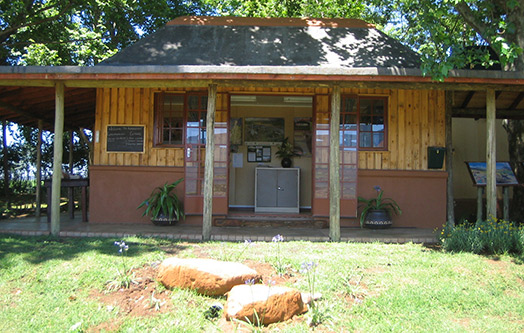 The Karkloof Conservation Centre is one of the Conservancy's proudest achievements. Having been officially opened by our Patron, the late Dr. Ian Player, on 27 October 2007, this Centre is ample proof that respect for the environment and conservation ethic are deep rooted in the Karkloof Valley.
Funding for this initiative was provided by the SAPPI/WWF TreeRoutes Partnership in conjunction with the Wildlands Conservation Trust. Their contribution is enormous, and the Karkloof Community will always be indebted for their generous support.
The Karkloof Conservation Centre is located at the entrance to Gartmore Farm, with the Karkloof Range of Hills and the largely unspoilt natural bush that adorns it as the backdrop. A rich diversity of birdlife abounds on the farm where agriculture is practised in harmony with birds, antelope and an abundance of frog and insect life. The fertile farmland in KwaZulu-Natal boasts numerous oxbow lakes, with the flood plains of the Yarrow and Karkloof rivers, which creates ideal habitat for waterfowl and all three species of Crane which are regularly seen here.
Specials that can be sited here include: Wattled Crane, Grey Crowned Crane, Blue Crane, Southern Bald Ibis, African Spoonbill, Buff-spotted and Red-chested Flufftail, Black-winged Lapwing, Verreaux's Eagle-Owl, African Fish-Eagle, Denham's Bustard, Secretary Bird, Southern Ground-Hornbill, Lesser Moorhen, Baillon's Crake and in wetter years, Lesser Jacana.
Click here to download our most recent bird list
The public can now enjoy the true splendour of bird watching and photographs in the Karkloof from a comfortable seat in a beautiful bird hide where one really feels part of the natural surroundings.
This project is an exemplary example of how high tech agriculture, conservation and tourism can coexist harmoniously without disturbing ecology.
Conservation Centre Details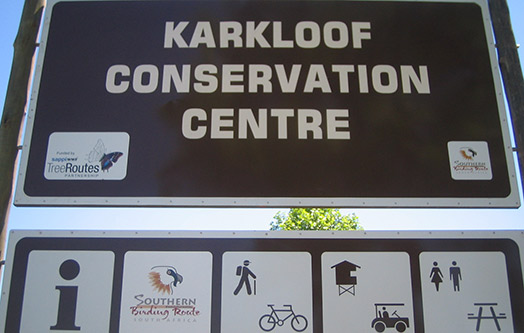 Office hours: 8:00 to 16:00.
Gate times: 5am to 6pm (please ensure your vehicle is out the gate well before 6pm, as the gate closes automatically at that time)
An honesty box is in place for weekends and for the early birds and for the wise owls who enjoy sundowners.
There is an entrance fee of R25 per adult, R15 per child (children under five years get in for free). Pensioners discount every Friday. Only R15 per pensioners.
Please make bookings for larger group visits, functions and if you plan to make use of our braai facilities.