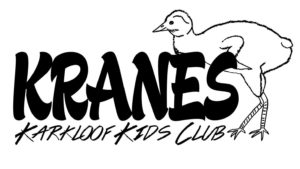 Thirty-five eager kids met on a misty morning at the Karkloof Conservation Centre for a morning of "Bugging Around" with the KRANES.
Alex Jenkins, a local entomologist, presented a brief introduction into entomology (study of insects) to the eager kids and described all the unique characteristics of insects to them. The group then moved along the avenue of plane trees to the Wattled crane hide, looking for bugs along the way. This was all very exciting, as there were insects galore. Butterflies, ladybugs, beetles, caterpillars, locusts, grasshoppers and more were all spotted by the young fresh eyes and promptly caught with either their hands, nets or plastic tubs. The fun continued at the hide, where the kids studied the insects they caught and learnt a bit more about each one. The children were then given an opportunity to take what they learnt and design their very own insect. There was also an insect museum set up by Di Martin where they could have a closer look at some other insects from South Africa.
The group went back to the Nick Steele Picnic Site at the office for a brief snack break to replenish energy levels so that we could become enterprising builders to design and construct an insect hotel. Items used in the design were sticks, reeds, leaves, bricks, pieces of wood, cardboard tubes, stones, pinecones and bark. The children created lovely unique habitats for different insects to make use of. This hotel is now proudly on display in the picnic site and bugs have already started moving in!
We hope that all the kids feel the same as the participant whose words afterwards were:
"Today was both very educational and entertaining. Alex taught us how to use a sweep net, pooter (which is a container with two tubes, one of which has a cloth on it), and a square framed net to catch insects."
KRANES was started as an initiative of the Karkloof Conservancy and Lions River honorary officers as a way of exposing children to the environment and teaching through fun. Those aims were certainly achieved in this outing, as the kids had great fun venturing out with the leaders and they took full advantage of the time and space to explore. As one of those leaders, I had the added benefit of watching the confidence levels grow and friendships being formed. We are extremely lucky to have such a proactive Conservancy on our doorstep. The landowners in the Karkloof do a huge amount for conservation, and we owe them thanks.
We look forward to future outings with our future nature custodians.
Best wishes,
Linnet Crow – KRANES Volunteer Coordinator