Learners from our 3 local farm schools, namely Hawkstone, Triandra and Yarrow Primary, participated in our Annual Conservation Art Project during June 2016. The theme for this year's project was "An Eagle's-Eye View".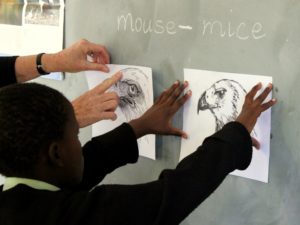 Margaret Neunborn, our volunteer farm school project coordinator, set up some of the most delightful activities to teach the kids about the uniqueness of the raptors found in our area.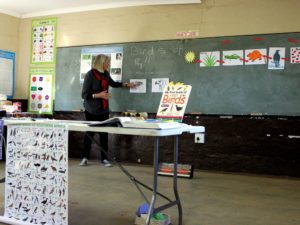 Children were introduced to the different types of birds of prey and how each of them are specially adapted to their habitats, habits, dietary requirements and seasonal movements.
The children were also taught about the value of raptors in the environment and how they fit into the food chain, keeping the various ecosystems in balance.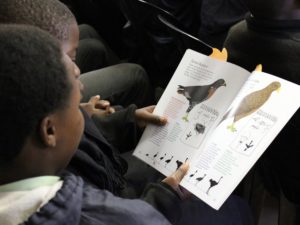 We played a few games with the kids to make the lesson fun and interactive while teaching them about raptors. This was a big hit with them and it was great to see how well they had listened to us throughout the lesson.
After the lesson, each school was handed a large sheet of white fabric, bits of colourful fabric, paints, glitters and glue to create their artwork which forms part of the annual inter-school art competition. They were asked to imagine that they were an eagle flying over their school. They then had to depict "an eagle's-eye view" of what they imagined it would look like on the large white sheet.
We look forward to displaying the artwork for voting at an upcoming talk (date to be confirmed).